Date/Time
Date(s) - February 22, 2023 - February 23, 2023
9:00 am - 5:00 pm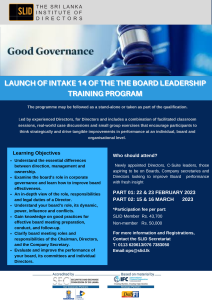 Board Leadership Director Certification Programme Intake 14
A 2-day course to provide you with information essential for understanding the Role of the Director and the Board.
The Programme may be followed as a stand-alone or taken as part of the full qualification.

An excellent programme based on material from IFC, Global Governance Forum, customized to Sri Lanka and accredited by the SEC.

On completion of this part you will receive a Certificate of completion.
Who Should Attend?
Newly appointed Directors, those aspiring to be on Boards, Company secretaries and Directors looking to improve Board performance with fresh insight.
PART 01: 22 & 23 February 2023

PART 02: 15 & 16 March 2023.
.For further details contact The Sri Lanka Institute of Directors Secretariat at 011 362 0613 or email iod@slid.lk